The collected Sam & Max: Surfin' the Highway is a compilation of Sam & Max comics and related artwork that was published by Marlowe & Company in 1995. In 2007, an updated 20th anniversary (counting from the publication of Monkeys Violating the Heavenly Temple in 1987) edition was published by Telltale Games. It is named after highway surfing, the activity portrayed on the front cover.
The original Surfin' the Highway had 154 pages containing a variety of (fold-out) activity pages, one-page comics (including The Adventurer comics) and full-page pictures, as well as the following longer stories:
The paperback version originally sold for $12.95 (a limited edition signed and numbered version was also available). The book was reprinted in 1996, with the reprint selling for $15.95. The hardback originally sold for $22.50. Highly sought after, it has long since sold out and now goes for as much as several hundred dollars on eBay.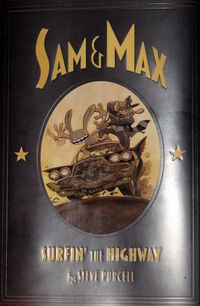 The 20th anniversary edition has 197 pages and measures 9.25''x6.5''. It is sold in two versions, a paperback selling at $19.99 and a limited edition hardcover selling at $49.99. The hardcover books are numbered, signed by Steve Purcell, and only available through Telltale's online store. Of this limited edition only 2500 were made. The ISBN number is 978-0-9792576-2-9 for the paperback version, 978-0-9792576-3-6 for the hardcover.
The new edition contains everything in the original Surfin' the Highway, more short stories and pictures (including some paintings made to promote the Telltale series and the new DVD of the animated series), a foreword by Steve Purcell, and a color version of "Fair Wind to Java".
http://www.telltalegames.com/store/samandmax-highway (Product description at the Telltale Store.)
Community content is available under
CC-BY-SA
unless otherwise noted.