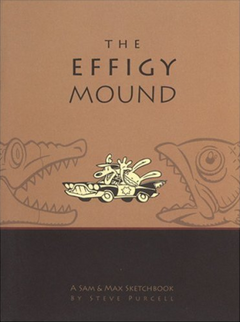 The Effigy Mound was unveiled at San Diego Comic-Con in 2007, and was then made available in the Telltale Store. It is currently out of stock with no plans for a reprint.
The cover is tan on brown with a small black and white image of Sam and Max in the Desoto. An alligator and fish with gaping mouths surrounds them.
The Effigy Mound's title is the name of a native Indian practice. Similar to other ancient man-made landmarks, these are made from piles of dirt and rocks in the shape of things important to the tribe (animal spirits, people, etc). They are usually rather large and must be viewed from high up to actually see the shape.
In depth Analysis
[
]
The inside covers feature random draft pages/panels of the comic "Sam & Max On the Road: I Love a Band Leader". The book starts with a short intro and dedication to the fans from Steve Purcell. The following pages have clean, uncolored scans of familiar images from Sam & Max Hit the Road and comics to random drawings/sketches (like a "life-like" Sam and Max) and rough drafts of cover ideas. The most notable parts of the book are the reprint of the 1994 Holiday Newsletter, the "Higher Education Series" cover drafts, clip outs of some edits the animated show had to make, and two partial comics where Sam and Max are looking for bigfoots in Connecticut and the other has them fighting vampires.
There's more images for the game Sam & Max Plunge Through Space, but there are a good amount of the animated series (showing a couple of characters who didn't make it into the show) and Telltale Games episodes' sketches.
Book Details
[
]
Author: Steve Purcell
Printer: Dancing Devil Press
ISBN: none
Pages: 68
Dimensions: 8 1/4 x 6 1/4
The book design was created by Steve Purcell and Collette Michaud.