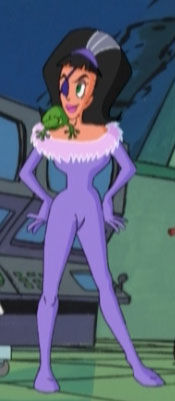 Larvo, also known as The Dreaded Larvo, is the leader of T.R.U.S.S., an evil organization. She wears an eyepatch, a tight purple outfit and is usually seen carrying a pet frog on her shoulder.
She's shown to be quite smart, as she seemingly developed the obnoxious tourist virus all by herself. She is also a master of disguise, as she flawlessly impersonated Mr. Harry Monkey features, successfully fooling Sam, Max and Darla.
Larvo is an exclusive character that only features in The Adventures of Sam and Max: Freelance Police. She also only appears in one episode, Kiss Kiss, Bang Bang, meaning she is one of the few villains from Freelance Police that doesn't appear in The Final Episode.
Community content is available under
CC-BY-SA
unless otherwise noted.