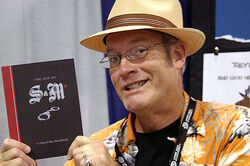 The Age of S&M (subtitle: A Sam & Max Sketchbook) is a book containing a variety of sketches and concept art related to Sam & Max. It was unveiled at San Diego Comic-Con in 2006, and was then made available from the Telltale Store. A second edition was printed in January 2007. It is currently sold out with no plans for any future reprint.
The title along with the handcuffs featured on the cover may be a thinly veiled reference to the more common meaning of "S&M", and the presence of the book on a certain Amazon.com reading list shows at least some people have fallen for this joke.
The inside covers contain notes on how to draw Sam and Max. The book starts with an introduction by Steve Purcell and contains rare sketches and concept art related to all of the following and more:
Author: Steve Purcell
Printer: Dancing Devil Press
ISBN: 978-0-9792576-0-5 (2nd Edition)
Pages: 68
Dimensions: 8 1/4 x 6 1/4
The book design was created by Collette Michaud and Steve Purcell.
Community content is available under
CC-BY-SA
unless otherwise noted.