This template expands into a featured article preview randomly selected from the included list. Add appropriate entries to the list in <option> tags. If it works out well and once we have enough entries, this template can be used as the body of the "Random Featured Article" part of the main page. See the MediaWiki page for more information about the <choose> and <option> tags.
Stuff that actually shows up begins here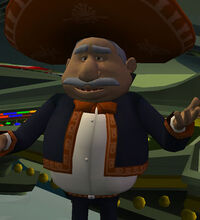 First mentioned by Bosco in Ice Station Santa and initially only referred to as T.H.E.M., the Temporal Headquarters of Enlightened Mariachis is a group of three mariachis (or actually, three different instances of the same mariachi, Pedro) who travel through time in order to perform at everyone's birthday. They play a major part in the plot of Season Two. Read more...

This preview has been randomly selected from a list maintained by our editors at Template:Random featured article. Every time you visit our site, you should see a different preview here.