This template expands into a featured article preview randomly selected from the included list. Add appropriate entries to the list in <option> tags. If it works out well and once we have enough entries, this template can be used as the body of the "Random Featured Article" part of the main page. See the MediaWiki page for more information about the <choose> and <option> tags.
Stuff that actually shows up begins here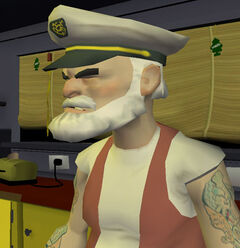 Grandpa Stinky is a side character in Sam & Max Season Two.
Character Detail
Stinky is the original proprietor of Stinky's Diner, which he used to engage in gastronomical experiments to better the human race (mostly by creating food so bad only the toughest can stomach eating it). One such creation was The Cake of the Damned, better known as Girl Stinky, who believes him to be her grandfather. Girl Stinky took over the diner after the old man died in a mountaineering accident, which ironically could have been prevented by the superior adhesive Girl Stinky would have invented if Sam & Max hadn't traveled back in time to steal the family recipe in Chariots of the Dogs. Still, Sam & Max bring him back from the dead in What's new, Beelzebub?, after which the Stinkys jointly run the place. Read more...
This preview has been randomly selected from a list maintained by our editors at Template:Random featured article. Every time you visit our site, you should see a different preview here.
Community content is available under
CC-BY-SA
unless otherwise noted.