"

Situation: Comedy

"
Telltale episode
Episode #
102
Villain
Myra Stump
Musical number
Sam's Banjo Song
Release date
December 20, 2006 (GameTap), January 5, 2007 (Telltale Shop)
Situation: Comedy is the second episode of season one of the Sam & Max video game series by Telltale Games.
Synopsis
[
]
Sam and Max are sent by the The Commissioner to the WARP TV studio when talk show host Myra Stump takes her audience hostage. After helping Bosco deal with Jimmy Two-Teeth and the Skinbodies terrorizing his store, they manage to get into the studios where they plan to appear on Myra's show, but she will only let them on if they can quickly gain enough celebrity to be worthy.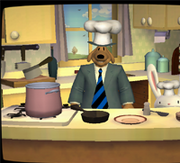 To this end, they star in an all-new episode of Midtown Cowboys, win Embarrassing Idol, and fabricate a scandal to go in Sybil's tabloid, the Alien Love Triangle Times. In the meantime they also win Who's Never Going to be a Millionaire? and host Cooking Without Looking.
When they finally appear on Myra!, they find that a toy bear is hypnotizing Myra and the audience. Despite the limitations of talk show law, they manage to sabotage the bear and save the day.
Characters
[
]
See also
[
]
External Links
[
]