Sam & Max Season One (later known as Sam & Max Save the World) is the first season of the Sam & Max (video game series) by Telltale Games based around the characters of the Sam & Max comic series created by Steve Purcell. The first of the six-ephe full season has since been brought to conventional retail as well as the Nintendo Wii. It will also be released for Xbox Live Arcade under the title Sam & Max Save the World.
This season of Sam & Max has a remaster called Sam & Max Save the World Remastered, released on December 2nd, 2020 on PC and Nintendo Switch by Skunkape Games. It completely remasters the first six episodes with new visuals, music, higher quality sounds, interface, and is able to be played with a keyboard and gamepad.
Publisher: Telltale Games, Skunkape Games (remastered)
Distributor: GameTap, Dreamcatcher Games/The Adventure Company (North American Retail), JoWood (European Retail)
Genre: Adventure
Ratings: T for Teen (Wii)
Platforms: PC, Wii, Xbox Live Arcade, Nintendo Switch (remastered)
Overall plot
[
]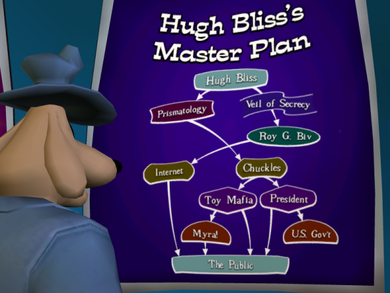 The season revolves around various schemes to gain power by hypnotizing large amounts of people, all but the first of which turn out to have been orchestrated by Hugh Bliss. As the Master Plan reveals, Hugh Bliss used the Prismatology movement to control Chuckles, who went on to control both the Toy Mafia Don Ted E. Bear and the Puppet President. When Chuckles was finally defeated in Abe Lincoln Must Die!, Hugh used the alias "Roy G. Biv" to manipulate The Internet into causing the events of Reality 2.0. When that failed, he took matters into his own hands, making one last bid to hypnotize the world before being defeated in Bright Side of the Moon.
This leaves only the events of Culture Shock, which were not part of Hugh Bliss' plan but the result of renegade prismatologist Brady Culture using stolen hypnosis technology for his own reasons.
Recurring characters
[
]
Sam & Max: Sam is the leader of the duo, and tends to be the voice of reason. He is the player character of the duo, holds your inventory items, and is most of the time the only one who can engage in dialogue. His best friend is Max. He is never seen without his trademark gray suit, fedora (which was modified after Culture Shock to protect against hypnotism), or gun. Max is a "hyperkinetic rabbity thing" (he himself prefers being called a "lagomorph") who is rather hyper and violent in his approach to problem solving, tending to only look out for himself, but always loyal to Sam. He will wander around the area, will comment on things Sam interacts with, and can occasionally have his own personal dialogue options. He has his own gun, which is similar to that of a Luger, and cannot be hypnotized (much like Sam).

Sam & Max actually have two pets: a goldfish named Mr. Spatula who later becomes vice-president & an office plant named Hubert.
The Commissioner: While never seen, he assigns cases to Sam & Max throughout every episode.
Jimmy Two-Teeth: The rat that lives and runs various shady businesses out of his hole in Sam and Max's office. He could not care less that Sam and Max don't like him living there; in fact, he considers them to be the pest problem. He always avoids getting involved in their business and vice versa.
Bosco: Bosco owns and runs "Bosco's Inconvenience Store" at the end of the street from Sam and Max's office. Bosco is extremely paranoid of everyone and everything, although he places a certain degree of trust in Sam and Max. He therefore takes great care to keep his store secure. He is also an inventor of a line of "Boscotech" products that he sells at extravagant prices, though these items are just useful applications of everyday items. (His 100 Million dollar "truth serum", for instance, consists of a bottle of Vodka.) He regularly disguises himself to avoid detection from the many authorities he claims are out to get him. These disguises are extremely transparent (he even leaves his name tag on) and his unconvincing fake accents (which he often forgets to use) fool nobody. However, in Abe Lincoln Must Die!, his government paranoia is proven to be true which may hint that his other paranoia's may be true. During the game the player can ask Bosco to supply Sam and Max with various items. These object are inventory items in other games, including Hit the Road, The Secret of Monkey Island, and others.
Sybil Pandemik: The owner of the business on the corner across from Sam and Max's office. A "short attention spanned careerist", Sybil changes professions with alarming frequency. Her more recent jobs include interior decorator, taxidermist, tattooist, psychotherapist, tabloid journalist, professional witness, dating service, carbon-dating service, beta tester, and Queen of Canada. She has changed occupation in each episode, though her parlor still retains obsolete mementos from previous months. She plays a role in each episode.
The Soda Poppers: Three ex-child stars from the 1970s TV series "Soda Jerks", the vertically-challenged triplets Whizzer, Peepers, and Specs are still familiar icons in the modern world. In Abe Lincoln Must Die!, they were elected as the governors of West, North, and South Dakota respectively, and then declared war on each other. They consistently get involved with Sam and Max & vice-versa.
Hugh Bliss: An eerily cheerful magician who is trying to sell books on "Emetics", his feel-good self-help system based on the colors of the rainbow and the main antagonist of the season (and the boss of all the episodes antagonists such as Myra Stump & Chuckles). He can perform many astounding magic tricks, including changing his appearance, disappearing, and mind reading. Sam has an intense distrust of Hugh and considers him to be a quack, but Max adores him to the point of obsession and eventually becomes a fan of Prismatology. Hugh is revealed in Episode 6 to be the one that has been trying to hypnotize everyone for his own nefarious plans. He was also revealed to be a form of cosmic bacteria that feeds on peoples' happy feelings, regardless of whether it is of their own free will or not.
See the individual episodes for characters exclusive to episodes.
Settings
[
]
See also The Office, The Street.
The one location which appears in all six episodes is Sam and Max's office and the surrounding buildings (Bosco's Inconvenience, Sybil's office, etc.) The office features several references to "Sam & Max Hit the Road", including "Human Enigma" and "Harry Moleman" posters, along with Jesse James's hand, which has been placed on a plaque above the closet door. The box on top of Sam & Max's filing cabinet bears the label "03-03-04", the date that the Lucasarts Sam & Max sequel was officially canceled which explains Sam's comment when the box is examined, in the first four episodes. The date also appears as a post-it note on the desk and the back wall (only visible when the camera zooms in, such as when talking to Jimmy). The office also displays two framed pictures, which can be found hanging on the left side of the office. These are scenes from the Sam & Max comic book stories "Bad Day On The Moon" and "On The Road". The bulletin board displays one last reference to other Sam and Max multimedia, a Max paper bag hand puppet. A short segment in the animated series, the comics and the Hit The Road game manual originally explained how to construct one.
Episodes
[
]
#
Episode
Release date
(GameTap)
Release date
(International)
Overview
1
"Culture Shock"
October 17, 2006
November 1, 2006
A group of former child stars, known as the Soda Poppers, are found causing trouble in Sam and Max's neighborhood.
2
"Situation: Comedy"
December 20, 2006
January 5, 2007
Myra Stump — a television talkshow host — has taken her audience hostage. Sam and Max are called to defuse the situation.
3
"The Mole, the Mob, and the Meatball"
January 25, 2007
February 8, 2007
The commissioner is looking into an underground operation at Ted E. Bear Mafia's-Free Playland and Casino, but the mole he sent in has suddenly gone quiet. To find the mole, Sam & Max must infiltrate the operation and become members of the Toy Mafia themselves.
4
"Abe Lincoln Must Die!"
February 22, 2007
March 9, 2007 (March 1 for Season 1 subscribers) [1]
Sam and Max must investigate the top man himself, the President of the United States, who has been passing inane mandates such as required hugs. Not only must the two take down the President, they may have to install their own man in his place, though Abe Lincoln may have a word or two about that. This episode was released for free on November 5, 2007.
5
"Reality 2.0"
March 29, 2007
April 12, 2007 (April 9, 2007 for Season 1 subscribers)
People are being hypnotized by the Internet craze, causing systems around the world to go haywire. Sam and Max must find a way to enter the virtual world and track down the heart of the Internet herself to pull the plug on her shenanigans.
6
"Bright Side of the Moon"
April 26, 2007
May 10, 2007 (May 7, 2007 for Season 1 subscribers) [2]
Sam and Max must go to the moon in order to save the entire world from hypnotic enslavement.
Machinima shorts
[
]
Main article:Season One machinima shorts
Following each episode, Telltale released three machinima shorts for Sam & Max, as a lead-up to the next episode.
| # | Episode | Release date | Overview |
| --- | --- | --- | --- |
| 1.1 | "Frank Discussion" | November 30, 2006 | Sam and Max share a discussion regarding hot dog weenies and their preservative properties in Bosco's Inconvenience store. |
| 1.2 | "Trainspotting" | December 7, 2006 | Sam ponders the meaning of life while Max questions the sensibility of being outside, away from the comforts of their office. |
| 1.3 | "A Painstaking Search" | December 12, 2006 | Having misplaced the keys to their office, Sam and Max return to the scene of their last case, Brady Culture's 'Home' for former child stars, in an attempt to retrace their steps. |
| 2.1 | "Reality Blights" | January 4, 2007 | Max volunteers the duo to appear on the fictional reality television show Four Freaks in a Terribly Cramped Office. |
| 2.2 | "Egregious Philosophy Platter" | January 11, 2007 | Sam and Max host the fictional television show Egregious Philosophy Platter, discussing the philosophers Socrates and René Descartes. |
| 2.3 | "Kitchen Consequential" | January 18, 2007 | Sam and Max host Fun in the Kitchen With Sam and Max where they showcase a few recipes of special effects. |
| 3.1 | "Interrogation" | February 1, 2007 | Sam and Max demonstrate for their viewers how to properly interrogate a suspect. |
| 3.2 | "Coffee" | February 8, 2007 | Sam and Max demonstrate their use of telekinesis on a coffee cup. |
| 3.3 | "The Blank Blank Blank" | February 15, 2007 | Sam and Max discuss with Bosco the government agency so secret, the acronym is classified. |
| 4.1 | "War Games" | March 1, 2007 | Sam and Max execute "simulations" in the War Room at the White House. |
| 4.2 | "The Teapot Drone Scandal" | March 15, 2007 | A Secret Service agent is ordered by Max, the President, to recite the Teapot Song (I'm a little teapot...) |
| 4.3 | "Saving the Economy" | March 22, 2007 | Max details his plan to make the economy more productive. |
| 5.1 | "Artichoke" | April 5, 2007 | President Max holds a press conference. Heaven help the reporters. |
| 5.2 | "Bosco" | April 12, 2007 | Max previews his attack ad against Bosco, despite the fact that he is not running. |
| 5.3 | "A Fireside Chat" | April 19, 2007 | Max records a "fireside chat" addressing the state of Idaho in the hopes of getting them to vote for him. |
Boxed releases
[
]
On May 10, 2007, Telltale announced that they would release a hybrid DVD for Season One subscribers in June; holding all six episodes of the game as well as hours of bonus material, including commentaries, behind-the-scenes info, and all of the machinima shorts. The disc is available to those who buy a Season One subscription, plus the price of shipping and handling. It was released July 28th.[3].
Another version for the general consumer was published by JoWooD and has been available in stores since August 15. The boxed release contains a bonus printed poster featuring artwork by creator Steve Purcell, as well as "behind the scenes" videos, an interview with Steve Purcell and concept art on the disc.
A boxed release of Season One Remastered was announced to be released on April 30th, 2021 through Limited Run Games. There were three editions of this product: the Nintendo Switch Standard Edition, the Nintendo Switch Collector's Edition, and the PC Collector's Edition. Both of the collector's edition releases contained not only the games but the original releases and original Telltale special features, prototype hypnosis glasses, an Alien Love Triangle times front page, Toy Mafia Casino fridge magnet, Max for President campaign button, and Bosco's virulent disease napkin, and several additional postcards and prints. The Switch release also included a Nintendo Switch branded Sam and Max slipcover.
Soundtrack
[
]
The music for all six episodes was written by composer Jared Emerson-Johnson and recorded at studio.jory.org. Telltale released a 2-disc album in late July which is only available through their website.
Reception
[
]
Reception for the episodes was generally positive, and individual episodes have won various awards. The first episode got very positive reviews; however, the two successive episodes got progressively lower review averages. The fourth episode was generally seen as a large step back on the right track; it was also the first episode in which Telltale had been able to make use of all the user feedback they had been getting on their forums. The fifth and sixth episodes got similarly high reviews.
The Boston Phoenix awarded the complete season compilation three out of four stars and declared, "The complete Season One package gives the stories a shape and a sense of cohesion the discrete pieces lacked."
Episode 1
[
]
The first episode has been favorably reviewed, generally commending the faithfulness of the game to its predecessor. Game Rankings currently has 51 reviews averaging together as 81.7%.
Awards
[
]
Episode 2
[
]
79.4% average among 39 reviews at Game Rankings.[8]
Episode 3
[
]
74.9% average among 29 reviews at Game Rankings.[9]
Episode 4
[
]
80.8% average among 24 reviews at Game Rankings. [10]
Awards
[
]
Tied with Loonyland II: Winter Woods for "Game of the Month" at Game Tunnel's "March Indie Game roundup". Also won a Gold Award. [11]
Episode 5
[
]
82.9% average among 21 reviews at Game Rankings.[12]
Episode 6
[
]
82.2% average among 15 reviews at Game Rankings.[13]
External links
[
]