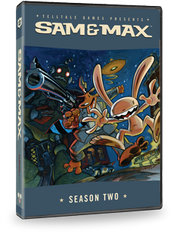 Sam & Max Season Two is an episodic series of adventure games by Telltale Games which follows on from Sam & Max Season One. The game was announced on September 25, 2007, with a full Telltale Games announcement on September 28, 2007.
Season Two builds on Season One with more dynamic NPCs, an updated engine, a hint system, support for widescreen monitors, more realistic animations, and more mini-games within each episode. Season Two features a calibration assistant when first run, which allows the player to set their graphics and difficulty settings before playing.
Unlike Season One, where GameTap users were able to access each episode two weeks before it was available through Telltale's website, Season Two reduced this period down to one day. The first episode, "Ice Station Santa", was released on November 8 on GameTap, followed by a worldwide release on November 9. However, the second episode was delayed until January 11, 2008. New episodes were thereafter released on the second Thursday and Friday of each month.
As with Season One in 2007, Season Two was released on Steam on May 16, 2008.
Overall plot
The connection between the episodes is more loose and complicated than in the first season. Ultimately everything ties into a ploy by the Soda Poppers (who turn out to be demon princes with a high position in Hell) whereby they trick Sam & Max into damaging Hell enough for them to be able to oust Satan and take control themselves. To this end they had T.H.E.M. abduct Bosco while Sam and Max were busy dealing with Jurgen in Stuttgart. The volcanic eruption central to Moai Better Blues was a signal for T.H.E.M. to pick up the Moai Heads they needed. As with Season One, the events of the first episode were not part of the plan: the Poppers had mistakenly sent the Shambling Corporate Presence to Santa instead of Satan.
Recurring characters
In addition to the characters already introduced through Sam & Max Season One, Season Two introduces some additional recurring characters.
Episodes
External links