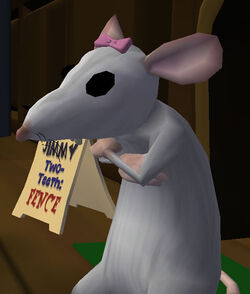 Mary Two-Teeth first appeared in Season 2's Ice Station Santa and is Jimmy Two-Teeth's wife.
Mary is the stereotypical nagging wife. She and Jimmy seem to have a history of arguing, to their son Timmy's displeasure. The main reason she is constantly telling her husband to take responsibility and stop blaming others for his problems is because they need the money to cure Timmy's Tourette's Syndrome.
She left Jimmy (in actuality, she was "kidnapped" by Sam and Max in the past in order to take her to present-day Jimmy) which probably caused him to turn to a life of crime than trying to make it in boxing.
When she faced present-day Jimmy, she begged him not to commit suicide. It didn't take much coaxing as Jimmy was overjoyed to see her. She was sorry for what she said before, but Jimmy was just glad to have his "best girl" at his side again.
Joey Camen
Jimmy Two-Teeth (husband)
Timmy Two-Teeth (son)
Community content is available under
CC-BY-SA
unless otherwise noted.