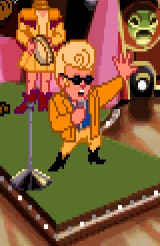 Conroy Bumpus is the main villain in Sam & Max Hit the Road. He is living in Bumpusville. His assistant and thug is Lee-Harvey.
Conroy is a famous country singer enjoying to harming animals, because his father was killed by a rabid bigfoot. According to his song, he grew up in Brighton, trapped a tiger before he could speak, killed a bear when he was three. After he got his first and last guitar, he studied for 2 weeks before giving up and hiring a backup band.
Later he admits he is from Liverpool, explaining his Cockney accent.
He is looking for a bigfoot to use in his latest act (and possibly for the sake of the hunt itself as well). He visits a number of tourist attractions advertising their bigfoots, but finds that all of them have disappeared. This makes him cross paths with Sam and Max, who are investigating those disappearances for their own reasons.
They first cross paths at the Kushman Brothers' Carnival where they find out that Bruno has disappeared. They meet again at the Gator Golf where its bigfoot attraction has also been lost, where he has Lee Harvey beat the pulp out of them. They also have appeared in the Mystery Vortex.
Eventually he manages to find and capture Bruno and Trixie before they do. Sam & Max manage to rescue the two, but by then Bumpus has left to go after the big prize: the bigfoot gathering at the Savage Jungle Inn. When they get in there themselves they run into him in a final confrontation in the kitchen, which ends with him and his assistant getting stuck in a block of ice. The block of ice is eventually displayed at the Kushman Brothers' carnival, replacing Bruno.
Bumpusville is decorated by various trophies, awards, even paintings of trophies. His musical achievements include:
"Two-Fisted, Beer-Drinkin', Gun-Totin', Hard-Lovin', Fast-Drivin', Country-Western Liverpudlian": Gold record for his breakthrough hit
"Flushed Down the Toilet of Love": first 8-track tape
"Smile When You Say That, You Rock-N-Rollin' Wimp": Platinum record for his all-time hit.
"Broken-Hearted Roadkill on the Highway of Romance": Gold record for his runaway hit.
"Tobacco Spit Blues": A million of copies
"Daddy's Two-Steppin' In His Two Foot Grave": Gold record
"Let's Drink Beer and Shoot Things": Platinum record.
"Heaven's Just Like Texas, Except That There's No Taxes": Gold record
Community content is available under
CC-BY-SA
unless otherwise noted.